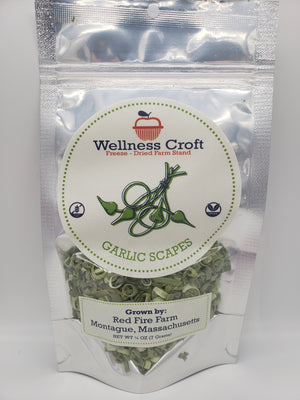 Northeast Freeze-dried Garlic Scapes/Garlic Greens
Sale price Price $5.99 Regular price Unit price / per
Used to add flavor to a wide variety of dishes, garlic is one of the most popular flavors on the culinary scene. But did you know that the bulbous garlic root isn't the only edible part of the plant? 
The green shoots, or stems, that grow from those roots—also known as garlic scapes—are also edible, and are a staple on the tables of backyard gardeners and farmers' market shoppers.  Our tender Garlic Greens are grown sustainably in Montague, Massachusetts by Red Fire Farm.
Our tender Garlic Greens can be enjoyed tossed onto salads or into dishes. Or garnish soups, sautés or casseroles and experience the same bright and wonderful flavors of fresh cut herbs!