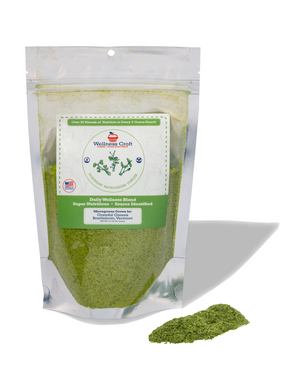 Freeze-Dried Powdered Northeast Microgreens Daily Wellness Blend | 3oz Pouches
Sale price Price $49.99 Regular price Unit price / per
Functional Food Technology is the driving force behind our passion for our products. Nature as our apothecary and food as medicine philosophies resonate throughout our product strategy. Whether you are simply working towards a more balanced diet, rich in fruit and vegetable nutrients, or are attempting to improve your sports performance, nutrify your cognitive function, or are self-managing obesity, diabetes, memory, depression/anxiety, or cancer; functional foods have proven to be the less toxic, lower side effect, and effective course of action.
Microgreens have been proven to provide 20 times the nutrition of mature vegetables – one pound of microgreens is equivalent to 20 pounds of mature fruits and vegetables! After freeze-drying approximately 1.5 pounds of microgreens becomes 1 ounce of microgreens powder after all the water has been extracted – the equivalent of 20 pounds of nutrients is now contained in a much more condensed package! One tablespoon of our microgreen powder mixed with two fruit powders weighs 6 grams. Our 3-ounce pouch of Daily Wellness Blend with microgreens and two fruits contains 14 servings; each one tablespoon serving is the equivalent of 2.3 pounds of fresh unsweetened whole fruit and vegetable nutrition!!
A recent US survey found that the US population do not meet the daily requirement for Vitamins A, C, D, E, and K; Magnesium, Calcium, and Potassium - Microgreens can help fill these gaps!
Our Microgreens are grown by Grateful Greens, Brattleboro, Vermont