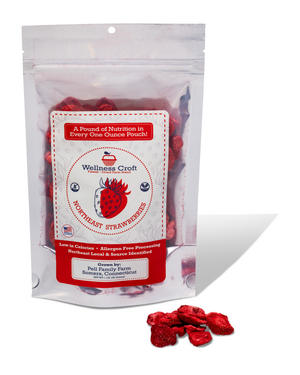 Northeast Grown Strawberry Pouch
Sale price Price $6.99 Regular price Unit price / per
Freeze dried Strawberries hand-cut chunks (1) ounce pouches.
Delicious and nutritious. Equivalent of ~11 ounces of fresh sliced strawberries in each freeze dried strawberry pouch.   Strawberries are an excellent source of vitamin C and manganese and also contain decent amounts of folate (vitamin B9) and potassium. Strawberries are very rich in antioxidants and plant compounds, which may have benefits for heart health and blood sugar control. 
We began a new partnership with the venerable Pell Family Farm in Somers, Connecticut. The Pells have been a family run farm since 1930 and provide both early and everbearing strawberries to Wellness Croft, Inc.  
Be well! Freeze-dried strawberries are a very pleasant experience with a punch of flavor and all the nutrition of fresh. Why send your kids or yourself and/or spouse/partner off to school, work, or recreational activities without local, fresh, freeze-dried 100% fruit and 100% veggies snacks from Wellness Croft, Inc.