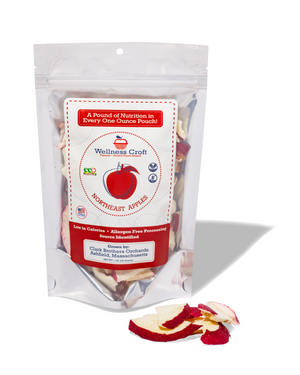 Northeast Grown "Empire" Eco Apple® Pouch
Sale price Price $6.99 Regular price Unit price / per
What do you get when you cross a Red Delicious with a McIntosh? An Empire, an apple variety whose flavor is sweeter than a Mac and more tart than a Delicious, and it has juicy, firm white flesh that does not easily bruise. It is a high-quality dessert apple and good for all culinary uses. It has a striking, deep red skin brushed with gold and green.
Freeze drying provides a light crisp bite and Empire Apple taste explosion! 
Our Empire Apples come from Rogers Orchards in Southington, CT
Eco Apple® Certified and Eco Peaches™ Certified are registered trademarks of Red Tomato™, Inc.